What was the first question that crossed your mind when you decided to build an eCommerce website for your brand? Was it about its design? Or were you thinking about its marketing strategy? Perhaps, none of these.
The most noteworthy concern is normally the eCommerce website cost. No wonder you are reading this.
Numerous factors decide on the cost of an eCommerce website. It encapsulates everything right from the design to advanced features. To come up with a conclusive price, one needs to be very specific about the requirements and do a sequential breakdown of the website constituents. Only after you have concreted the goals and explored every aspect of building an eCommerce website; you can define the accurate cost for it.
To reach a reasonable range of cost, you'd first need to brainstorm about the following:
Q-What's the scale of the website going to be?
Q-What type of traffic do you expect?
Q-How soon do you want it to be ready?
Q-Do you want a custom website or wish to use a SaaS platform like Shopify instead?
Q-How much prominence will be put on the design?
Q-What supplemental features you want on your website?
Q-How many products will be listed on the website?
Q-What type of marketing strategy do you want to follow?
Knowing answers to these, you will get closer to the right figure, but to hit the bull's-eye, you need to answer plenty more. Keep reading to find out what and how various factors can affect the cost of building an eCommerce website.
Scale and befitting development method
The internet is the shelter of all sorts of eCommerce businesses. You will find eCommerce stores either spinning around a single product or the ones that appear to sell everything under the sun. It is apparent that these websites have distinct scopes and goals, thus, use different approaches to website building.
So before you decide on the pricing, you need to analyze and understand where you stand on the e-commerce landscape. For instance, are you a start-up without any massive capital support or a booming retail business that wishes to take the next line; an online commerce store? Economical independence is the driving factor that determines how far you can go with the website you are visioning.
Another crucial factor is the website's development method. This works as follows-
1) open-source & Saas eCommerce platform
2) Custom eCommerce development
These methods walk parallelly with their set of pros and cons, which you will understand as you read further.
It is the functionality part where you have the scope of cutting down on the expenses by opting for the Saas platform like Shopify or Magento. Platforms like these save you a lot of time and cash, but they are not an ideal choice for building an online store that stands out in the industry. However, you can overcome these demerits via customization and with scaling, as per the needs.
On the contrary, when we talk of a custom eCommerce store, the sky's the limit. You are at liberty to set your own frontier with regards to features, cost, and time. Although you can tailor distinct aspects of your SaaS-based store, yet custom eCommerce stores will always be more elastic and effective.
Let's explore different elements of an e-commerce website that affects the overall website cost:
Cosmetics: cost of website design
With the access to billions of options present for everything, it has become a big challenge for online businesses to grab individuals' attention and convince them to purchase. Thus, the stores are in need to make an impressive impression from the get-go, this is where the store design can prove to be a game-changer for your business i.e., driving more sales.
If you opt for e-commerce platforms like Shopify or Woocommerce, you might escape with having to pay out even a penny on website design. These platforms offer off-the-shelf themes for those struggling on the budget part. The alternative would be to invest in paid themes.
Shopify paid themes would cost you somewhere around $160. These themes are highly professional and atypical as compared to the free ones. Besides, you can advance them by tailoring them as per your requirements. Aforesaid, minor customization would cost you around $1000, but if you are looking for broad changes, it would cost north of $5000.
On the other hand, custom development has no limit to designing cost. UX (User Experience) is the deciding factor here. Richer the UX, the higher the price. If you are a store planning to take your marble business online, then brand interpretation matters even more. Ecommerce customization ranges from $10,000 and can go up to thousands of dollars (depending on the features).
Functionality: Basic and advanced eCommerce Features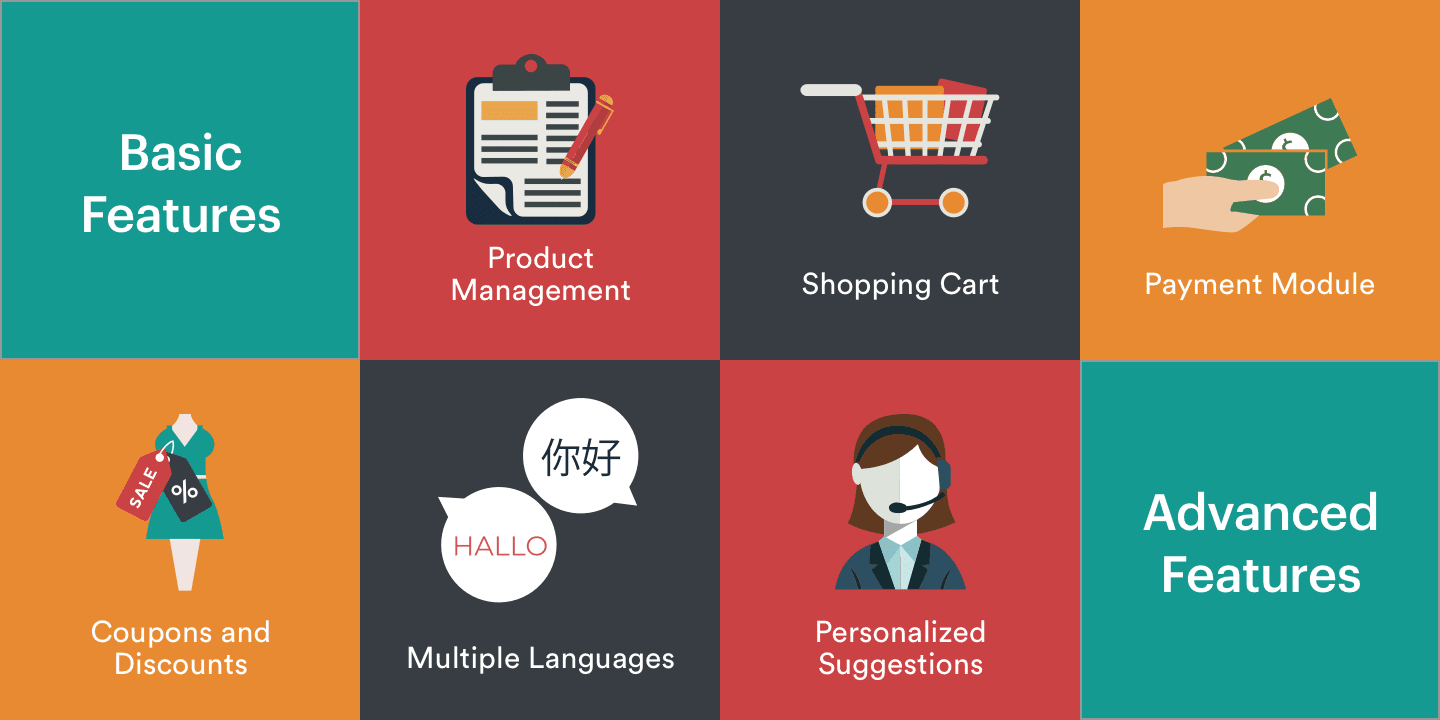 Let's get to the core of any eCommerce website- its functionality. No matter how simple or state-of-a-art store you want to build, it has to have some basic features like a shopping cart, product management, payment gateway, and other vital features.
If you plan for a simple eCommerce store, you will find most of the features ready-made only. But, who wants an ordinary store. Right? Disregarding the e-commerce platform you choose, it will always lack and store gaps in terms of functionality.
This is where plugins and add-ons come into play to fill those gaps and offer a seamless online purchase experience to your customers. These are available in both free as well as a paid version to enhance the website's personality. Here also the things get tricky. The free ones are not really that helpful as the third parties develop only paid ones, they don't always gel up with the website.
The solution to this? Customization!
For SaaS platforms-
Basic features: Offers off-the-shelf themes that you can customize by hiring professionals. Besides, the online store can also be created from scratch. It totally depends on your requirements. The customization for basic features goes on platforms like Shopify and Woocommerce range between $5,000 and $15,000. But, who would not like an online store that offers advanced features like wishlist or discount deals.
Advanced features: Customizing advanced features certainly requires a bigger budget. But, we don't literally call it an investment because the more functional the website, the easier it attracts more customers, thus growing your sales and revenue. Well, that cost somewhere between $5,000 to $15,000.
At the same time, when you choose to shift from an eCommerce platform to custom eCommerce development, you would not notice many changes and the importance of basic and advanced features remains the same.
Custom development-
Basic features: The cost of an eCommerce store comprising basic features range between $20,000 and $30,000, which encapsulates features like product management, categorization, payment portal, and more.
Advanced features: ith including the advanced features, the feature advancement ranges from around $10,000 to $16,000, which includes advanced features like Discount management, personalized suggestions, wishlist management, multiple languages, and more.
Since this section covers a large percentage of your investment, be conscientious while finalizing the right platform. Hauper Technologies, an advanced eCommerce development company, can assist you with expert guidance throughout the development process.
Fulfillment: The Cost of connecting physical and digital worlds of the Store
To build and drive a successful eCommerce platform, a well-functional website is like reaching only halfway to the destination. To gain your customer's trust and build credibility, you need to stay true to all of your promises. This means on-time product delivery, sustaining quality, and unmatchable customer service even after trading with your customers. And, if you can't keep your words, you can't stay in the game for too long.
To administer your business and its workflow, you can either opt for an off-the-shelf fulfillment software or get yourself a customized one. Off-the-rack software suits best for start-ups as there is a higher prospect that might diversify in the future, thus saving you a lot of money during the initial stages of your eCommerce business. The cost of an off-the-shelf software ranges somewhere between $30 t0 $400 a month, and if you decide to opt for customized software, it will cost you around $5,000.
Marketing: Different approaches, Different expenses
To sell to the customers, first, you need to gain their attention. A lot, to achieve this, falls under the marketing umbrella- right from the web copy to the PPC campaign is efficient in generating traffic to your platform.
Let's begin with copywriting and SEO- The number of web pages to write is the determining term when it comes to the cost of copywriting, and mostly it's a one-time investment. On the other hand, SEO is a dynamic process, which you need to keep in check, till the store is functional.
For small and medium businesses, marketing is the key to success. Such businesses go beyond SEO and invest in PPC campaigns and other marketing strategies. The cost of eCommerce marketing ranges between $1000 to $5000, subject to your marketing approach and marketing goal(s).
Maintenance: Cost to Carry on With
Once the site is on the web & performing wonderfully, clearly, it will be needing a periodical check. It is crucial because some glitches occur only once the website goes live with products. Besides, in-trend updates keep the website in competition.
Similarly, like other components of website development, maintenance is also conditional on the website scale. Small stores, especially built on Saas platforms, do not require extensive technical maintenance. They can simply leave it to the service provider and keep their attention on their business instead.
For bigger enterprises, maintenance is vital, and regular inspection is crucial to ensure the smooth running of everything and escaping unwanted surprises.
So, for small eCommerce enterprises, the maintenance cost goes up to $2,000 per annum, and for medium to large enterprises, it ranges between $200 to $1200 per month.
Additional: Miscellaneous Spending
Prerequisites- the need for not only eCommerce but any website in general.
Domain and hosting, evident, to get going. Saas platforms usually encapsulate hosting in their plan. Everything is ready to use, and you can start working right away. Besides, they also incorporate SSL certificates, which is a great deal. But it is recommended to carefully read the terms & conditions of their plan as they might come with budgetary limitations or are restricted to a particular payment gateway. The hosting charges for SaaS platforms range between $30/ month, and the cost of their premium plan can rise to $300 per month.
How can Hauper Technologies help in building your dream eCommerce store?
Building or augmenting an eCommerce website can become an intimidating task swiftly. Clearly, you need an experienced and reliable expert to shoulder this responsibility. And when it comes to eCommerce-website development, Hauper Technologies ticks all the right boxes.
Be it your requirement of working on a Saas platform like Shopify, building an advanced eCommerce website on Magento, or developing an eCommerce store from scratch, Hauper Technologies has got you covered. We employ an agile development methodology and transparent approach to deliver projects on time and keep you in a constant loop to share progress updates and demos.
We're a one-stop destination for all eCommerce related design, development, and maintenance needs. To know about our eCommerce website development pricing, feel free to contact us with your eCommerce website development needs.