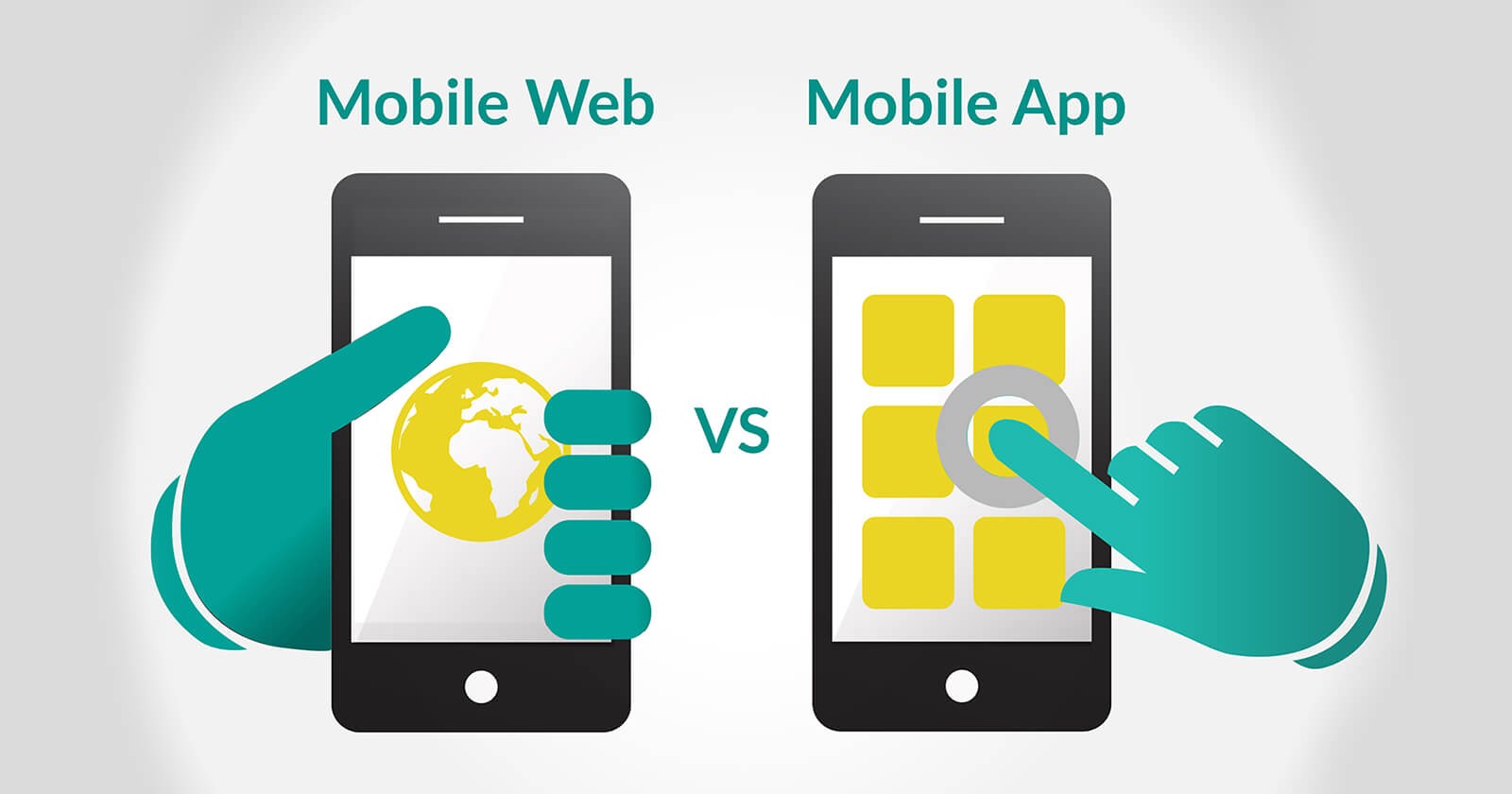 If you are looking to establish a mobile presence for your business, one of the first dilemmas that you are likely to encounter is whether you should create a mobile application for your users to download or a mobile website, or perhaps both.
A mobile application and a mobile website may look very similar at first sight, but choosing which one suits your needs and adds value to your business depends on many factors, such as your target audience, purpose, and required features.
Before jumping directly on understanding which one is ideal for your brand. Let's first understand the mobile application and mobile website individually.
What is a mobile application (app)?
These are the applications designed to function on a mobile device, such as a smartphone or a tablet computer. Though these applications are customarily small software units with limited function, they still offer their users quality services and experiences.
When compared with desktop applications, mobile applications move away from integrated software systems. Each mobile app provides an isolated and limited functionality. It can be a calculator, a game, or a mobile web browser.
A mobile application is a separate entity from a company's website and is often an extension of a brand.
Mobile application for business
A native mobile app is designed for a specific platform, iOS or Android, and is put in the device itself. Such applications are written in the language of the OS of the device. These applications are an entirely separate entity from a company's website and are mostly an extension of a brand.
1. Branding opportunities
As a mobile app is a different entity from a company's website, it has the caliber to offer new branding opportunities to users. It means that brands can experiment with new branding tactics and styles with a mobile application.
It's crucial to note that a mobile app offers an entirely different experience for the user. If your website can't offer enough value for your customers, a mobile app may be the way to go as it offers users another channel for engagement.
2. Personalization
Personalization is about offering customized communication to users based on their interests, location, usage behavior, and more. With mobile apps, it's easy to offer a personalized user experience as they allow users to set up their likings when they have initially installed the app, and tailor it to suit their needs.
Moreover, apps can also track user engagement, and use it to offer tailored recommendations and updates to the user. Furthermore, mobile apps can also point out the locale of the users to offer geography-specific content such as special offers or promotions at a particular store location.
3. Leverage device capabilities
A native app can access the device features and hardware, such as the camera, GPS location, and so on. Having access to the device capabilities is specifically vital for retail apps as they notably elevate user experience.
One undeniable truth about shopping is that custom experience matters and suggests that context and hyper-relevance are the fundamentals to win over digital consumers.
Therefore, a mobile application is an eventual approach for enhancing the customer experience, serving as an extension of a retailer's brand, and providing features that aren't accommodable anywhere else. Here are a few of the possibilities:
Push notifications

Tap-to-call/email

Device vibration/alerts

Camera

Instant and automatic updates
On the other hand, mobile websites are restricted to accessing device features. Although, they can access some features like the camera, GPS, etc., but have many technological limitations in utilizing them.
4. Offline access
Mobile apps can operate without an internet connection. Although many apps demand internet connectivity to do most of their tasks, yet they can still offer content and functionality while in offline mode. With this upper hand, users can access information anytime, anywhere.
5. Customer engagement
Mobile applications run within their interface environment, which enhances mobile experiences for users. Additionally, mobile apps allow for more influential ways for users to engage with your content. Instead of looking at the identical text and images as a website, apps can blend features that enable users to interact with certain components of the application.
Finally, if a mobile app delivers a big-time value to the users, they will return often, forming a habit. All these factors contribute to greater engagement, in turn boosting conversion rates.
6. Brand presence
The icon of the app on the user's mobile screen acts as an advertisement for the brand. It presents an extensive opportunity for hyper-targeted marketing and a level of user engagement that is unmatchable on any other channel.
What is a mobile website?
It is a website that has a responsive design and works for different screen sizes. Essentially, it's a tailored version of a regular website that is used particularly for mobile.
Benefits of a mobile website
1. Broader audience reach
When we talk about search engines, a mobile website has a greater reach capability than a mobile application, which is required to be searched and downloaded from the app store. Moreover, a mobile website is accessible across platforms, thus can be seamlessly shared.
2. Cost-effective
Considering the complexity, a responsive mobile website can be much more cost-effective than mobile app development. It is likely to be true when you want your application to have a presence on multiple platforms.
3. Competitive edge
With a mobile website, you can offer a great competitive edge to your brand. Moreover, if you are in need to change the overall design or a fraction of the website, you can simply do it & publish, and each user would be able to see it.
On the contrary, with mobile applications, one needs to throw the changes via updates, and the end-user has to update the app to put into effect the changes and fixes.
4. Faster download speed
As a mobile website is designed keeping in mind the mobile standards, browsing becomes faster, and the download speed becomes optimal. Thus, it can make users browse faster than an app (unless it is a mobile website app).
5. Enhanced user experience
Developed particularly for hand-held devices, a mobile website can easily be accessible by smartphones. It enhances user experience and satisfaction, thus building a positive impression on the users.
Moreover, a mobile website is faster than a mobile app and is more user-friendly, and the one who would have visited and browsed upon your website would be much familiar with the mobile website too. Therefore, a mobile website is a smart option.
Mobile app Vs mobile website: which is the better option?
When it comes to choosing between a mobile website and a mobile application for your brand, your business objective becomes the deciding factor.
If your brand aims to offer mobile-friendly content to a wider pool of people, then a mobile website is probably your go-to solution.
However, if you wish to engage, interact and communicate with customers to drive loyalty, trust, and credibility, integrating a mobile application into your business would be an excellent decision.
Often, you may decide to have both; a mobile website and a mobile application. If planned correctly, both of these can be strategic and valuable choices.
So, when you talk about your brand's mobile strategy, it's not a question of a mobile website or a mobile application, but perhaps a two-pronged approach.
Make the right choice
If you are looking for a mobile strategy for your organization, we can assist you in making informed decisions to match your goals with the right project plan. Please contact us for additional information.