In today's digital age, smartphones have become an integral part of our lives, storing a vast amount of personal and sensitive information. As we increasingly rely on these devices, it's crucial to prioritize smartphone safety and take steps to protect our data and privacy. In this article, we'll explore essential best practices for securing your mobile device, ensuring a safer digital experience.

Set Strong Passwords and Use Biometrics
Begin by securing your smartphone with a strong password or PIN. Avoid using easily guessable codes like "1234" or "password." Additionally, make use of biometric authentication methods, such as fingerprint or facial recognition, as an added layer of security.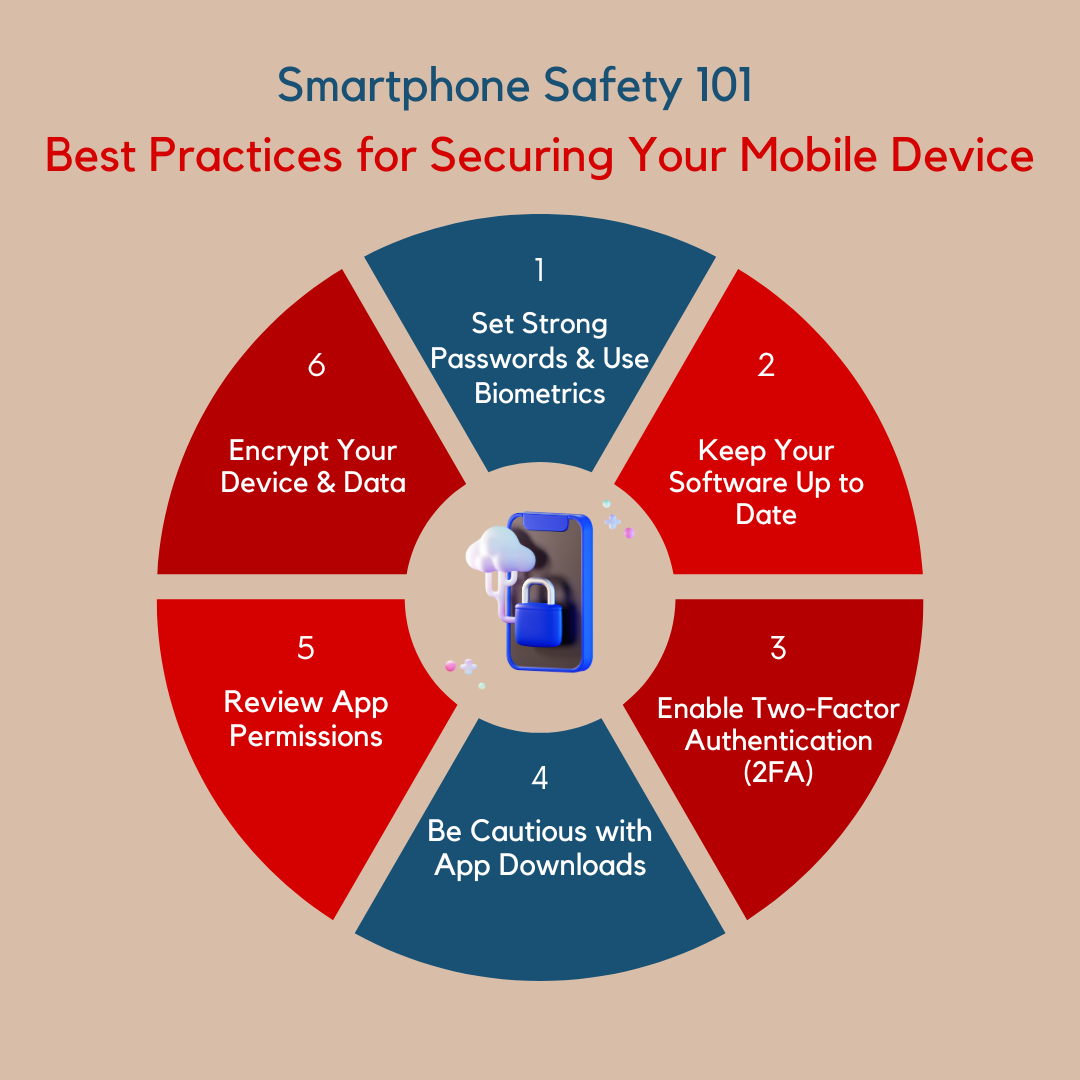 Keep Your Software Up to Date
Frequently update your smartphone's operating system and applications. Developers regularly release patches to fix security vulnerabilities, so staying current ensures you have the latest protection against potential threats.
Enable Two-Factor Authentication (2FA)
Implementing two-factor authentication adds an extra level of security to your accounts. This method typically involves a one-time code sent to your smartphone, ensuring that even if someone knows your password, they won't be able to access your accounts without the additional code.
Be Cautious with App Downloads
Only install apps from trusted sources, such as official app stores like Google Play Store or Apple App Store. Malicious apps from third-party sources might compromise your device's security and privacy.
Review App Permissions
Pay close attention to the permissions requested by apps during installation. Some apps may request access to more data than they need, which could lead to potential privacy risks. Deny permissions that seem unnecessary for the app's functionality.
Encrypt Your Device and Data
Enable device encryption to safeguard your data from unauthorized access. In the event your device is lost or stolen, encryption ensures that sensitive information remains secure.
Be Cautious with Public Wi-Fi
Avoid connecting to unsecured public Wi-Fi networks, as they can be a breeding ground for hackers to intercept your data. Instead, use a virtual private network (VPN) to encrypt your internet connection when accessing public networks.
Regularly Backup Your Data
Frequently back up your smartphone's data to a secure cloud service or external storage. In case of device loss, damage, or a security breach, you can restore your data and minimize potential losses.
Install a Reliable Security App
Consider installing a reputable mobile security app that provides features such as anti-malware scanning, anti-phishing protection, and remote device tracking and wiping.
Stay Informed
Keep yourself updated about the latest cybersecurity threats and best practices. Awareness of potential risks empowers you to make informed decisions to protect your smartphone.
By following these best practices, you can significantly enhance the security of your mobile device and safeguard your personal data from potential threats. Prioritize smartphone safety and take proactive measures to protect your digital life.
Why Hauper Technologies
At Hauper Technologies, we understand the importance of mobile device security in today's fast-paced digital landscape. With our cutting-edge security solutions, including top-tier mobile security apps and comprehensive cybersecurity services, we prioritize your privacy and data protection. Stay one step ahead of potential threats with our advanced technologies and expert team of professionals.
Secure your smartphone today and experience a worry-free digital journey with Hauper Technologies. Visit us at www.hauper.com to learn more and get started with a free trial.