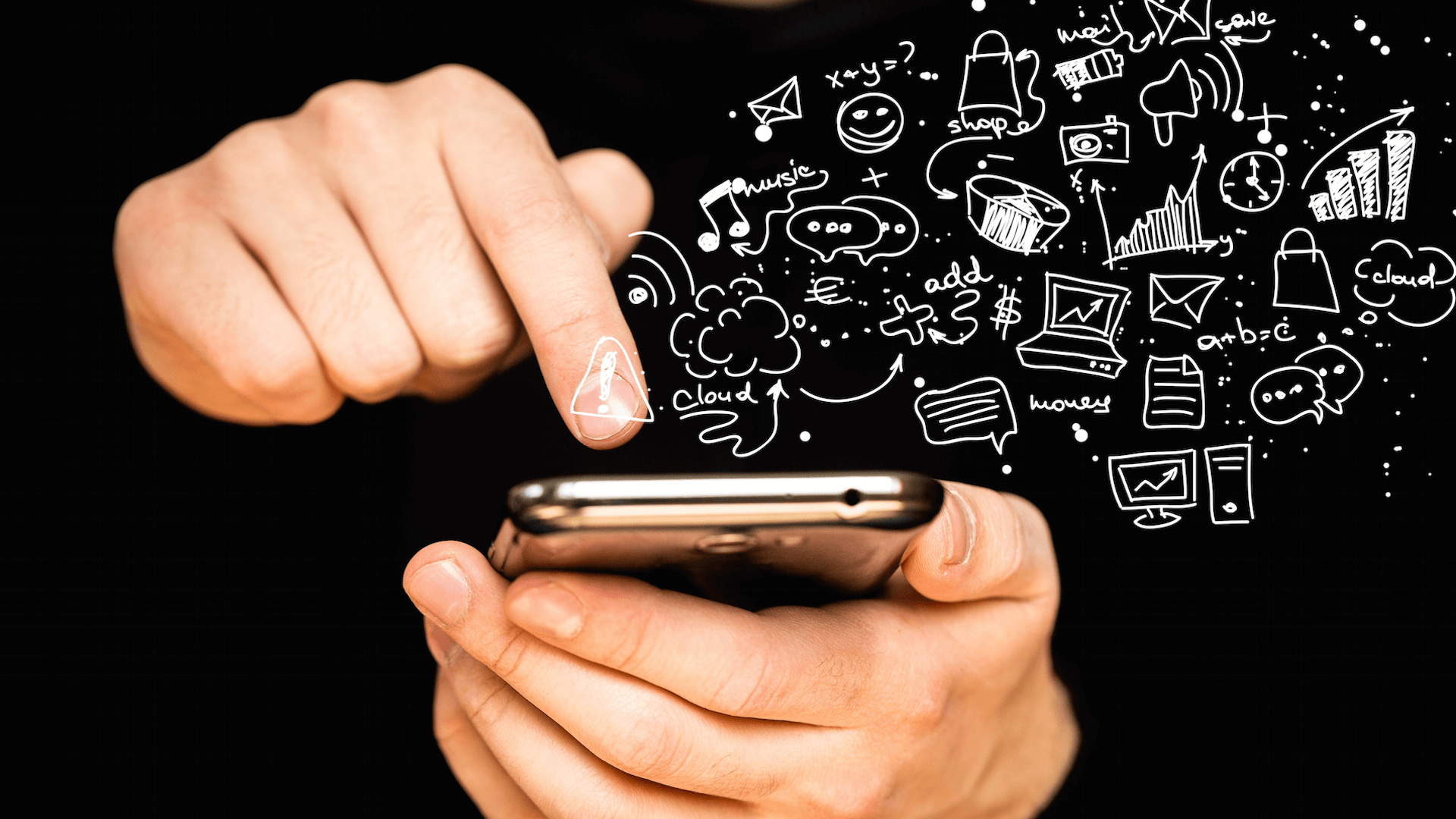 2020 is a reminder that our future is filled with uncertainties. However, the pandemic has significant effects on the usage of mobile. It has accelerated the behavioral shifts among users and also has expedited innovation among advertisers exploring new platforms.
According to a foresight mentioned in Statista, worldwide mobile advertising spending will exceed 240 billion dollars by 2022. As customers are employing more time on their smartphones, mobile advertising appears to knock down television advertising. To know more about on-device mobile advertising and how it can prove profitable for your business, let's study it in detail.
What is mobile advertising?
The term refers to ads and ad campaigns that are intended for gadgets like smartphones, tablets, or wearable devices. These advertisements can appear within apps, on websites opened on mobile devices, or on social media platforms that people usually access through their smartphones.
Why is mobile advertising advantageous for your business?
Customers spend a longer time on mobile devices
While the increasing smartphone use itself makes on-device mobile advertising worth funding, a large number of people engaging on social media make mobile ad networks more successful.
We have our explanation backed by numbers:
A study reveals that more than three-quarters of American people, i.e. about 77% are using smartphones and another record states that around 60% of total social media activities occur on mobile devices.
If that is not convincing enough, the click-through rate of mobile advertisements on social media is higher than 1%, whereas the click-through rate on desktops is less than 0.5 %.
On-device mobile advertising spans a broader market
The usage of the internet over mobile devices has been exceeding desktop devices for the past many years. And since more than half of the population has access to mobiles, your best mobile advertising strategies can spread to a large number of people.
Mobile advertising is a better buy
According to insights mentioned in the tech jury, the phone-based CPCs (Cost Per Clicks) cost 24% less than desktop clicks. They also have a 40% higher CTR (Click-through Rate) and while talking about shopping, 35% of mobile and tablet users buy online products once a week. And it is not surprising that 51% of total internet users are using mobile devices to make their purchases.
Geo-targeting capacities
Customers are anticipating personalization from brands and, accessing their interests in the offline world is not child's play. The customer's online searches don't convey the truth every time they are online, but by using location marketing, advertisers have more shots at reaching them.
Messages in real-time
Mobile ads can help you with the holistic marketing strategy to connect online and offline customer behavior by providing accurate location info that results in high-quality data and more efficient real-time messaging. Trustworthy store visits allow you to create more customized audiences, which guarantees you'll reach buyers when they're ready and interested.
The advantage of multiple touchpoints
A desktop is limited to a single touchpoint, i.e. the internet. Mobile advertising allows many more opportunities for advertisers like:
Mobile Internet

MultiMedia Messaging (MMS)

Text Messages (SMS)

Voicemail or missed call notification
Best Mobile advertising types
There are a few best mobile advertising types that you can accommodate according to your business needs:
In-app advertising
Thinking of mobile apps is unavoidable when we think of on-device mobile advertising. So, if you are going to experiment with mobile advertising, test app advertising first. With tons of apps available, you get to choose the right apps and display the appropriate creative to your target audience. 
Mobile video advertising
Videos are amazing and if you can generate creatives fast, test them early before the ad creative begins to burn out. These mobile video ads work like none other.
Location-based advertising
As mobile users carry their devices, you as an advertiser unlock a world of opportunities to display the ads and build your business using a targeted location. 
Banner advertising
Well, the all-time-scorned banner ad has also secured a spot in on-device mobile advertising. There is a lot of space for mobile banner ads, and if you can handpick the position where these ads appear and pair them with engaging creative, this will work wonders.
Pop-ups
Pop-ups have been seen on the web pages for years. These ads are similar to them, only smaller and designed for mobile screens. Test these to reach a huge audience.
Native ads
These ads are published on websites or in social media feeds. You must be wondering why these ads are called 'native'. That's because these use high-quality content and look like the content surrounding them. These ads also lead to 'soft sell' products; if they openly state them.
Voice ads
Voice-search is already here and, while paid voice-search is not really in-trend, it won't take long. So, voice-ads can also engage users in a very effective way.
All of these mobile advertising channels can run on social media, mobile ad networks, search advertisements, and even Amazon ads.
So if you've attempted just one mobile ad format, you need to keep testing further to gain the most out of it.
Mobile advertising business models
All mobile ad networks present users with various types of business models to run ad campaigns. Let's check out the major five.
CPM (cost-per-mile):  In the Cost-Per-1000 impressions model, an advertiser is charged each time their ads are displayed 1,000 times. It's the most suitable business model for publishers because it enables them to make money every time an ad is displayed.
CPC (cost-per-click): An advertiser charged for every click made on his mobile ads. The Cost-Per-Click model works great for advertisers because it permits them to pay only for situations; when interest in their product or service is specific.
CPI (cost-per-install): Advertisers are charged only when a click on their ads resulted in a real mobile app install. Cost-Per-Install value has become one of the most critical metrics for mobile app marketers to regulate and keep track of. It is because it signifies an amount they pay to obtain clients, and hence it should be a determinant for ROI calculations.
CPA (cost-per-action): Cost-Per-Action is a high-level version of CPI. When an advertiser is charged for a particular activity that users take inside an app, displayed on a mobile ad network, including the in-app sale, subscription, form submit, sign up, and other such things.
CPV (cost-per-view): Suitable for mobile ad networks that present advertisers with video ad campaigns. In the Cost-Per-View model, advertisers are charged for each time their video mobile ad is viewed. 
Preparing a mobile advertising campaign
Understand your audience
Mobile interfaces are simple, but they have got more distractions. If you want your message to get through, you need the information regarding the kind of messages that'll appeal to your ideal users. You'll also want to identify which channels and publishers your typical users flock to.
Find out which type and ad formats suit your budget
Don't blow your budget to display your ad on a big platform if a few in-app ads can do the trick. So, it is better to find out which is a perfect channel to suit your budget.
You need amazing creatives
These creatives are all about testing the offers you wish to display. And if you really need to engage your audience, you need a large number of creatives to find out the winner as only one out of twenty really appeals to the audience.
Keep a track of your ads
Data-driven mobile advertising is a blend of art and science as the creatives are driven by art and numbers by science. You need to manage both by using the tools that can help you to put together the shortcomings in the team's skill set if any.

Conclusion
Mobile advertisements are pretty much everywhere you go: around your preferred websites, in your apps, on social media, or in the search results. Mobile ads are extremely flexible, and that is the reason for their success.
On-device mobile advertising strategies are immensely advantageous due to its more widespread approachability, cost-effectiveness, and personalization. So, they are here to stay and rule the realm of digital marketing.
Leverage your business by allocating a vital slice of your digital advertising budget to mobile ads and reach your customers today!